ONLINE CATALOG SEARCH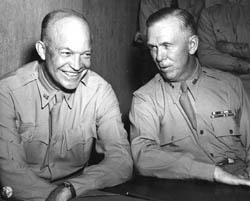 Dwight D. Eisenhower Interview Details June 28, 1962
1962
---
Summary of Topics Covered:
Eisenhower tells of first meeting Marshall when Eisenhower was assisting Gen. Pershing, then head of Battle Monuments Commission. Marshall was Assistant Commandant at Ft. Benning at that meeting and tries unsuccessfully to get Eisenhower to come to Benning as an instructor. They would meet again in the Philippines in January 1940. Eisenhower reflects General Conner telling him that in the event of another war that Eisenhower could "do no better than to try to tie yourself to General Marshall." Eisenhower describes several disagreements with Marshall's assessment of personnel (Lee, Fredenhall, and Devers). Eisenhower asserts that more than any other Marshall won the war because he began to prepare for it years before the U. S. involvement. He also discusses the many difficulties with the Russians during the war.
Transcripts:
To obtain a transcript of this interview contact The George C. Marshall Research Library.
Audio:
Forest Pogue recorded audio of this interview. The original tape and a digitized version are available from the George C. Marshall Research Library. Please contact the library to obtain a copy.
---