This post was originally published on July 8, 2016.
According to the U.S. National Park Service, there are conflicting views as to the origin of the name Fire Island. The island may have been named after Fire Island Inlet, which appeared on a deed in 1789, and the inlet's name may have started as a simple spelling error. Under another hypothesis, the name originates from the fires reportedly set by pirates to lure vessels to shore.
It is estimated that more than 2.2 million people annually come to Fire Island, either into one of the 17 Fire Island communities, on waters surrounding the island, or to one of the national seashore facilities.
In the 1930's George C. Marshall was one of those visitors. His first visit was at the invitation of Katherine Tupper Brown, a recently widowed woman whom he met in Columbus, Georgia at a dinner party in 1929. Marshall spent most of the summer of 1929 writing frequently to Katherine. She again visited Marshall in Columbus and in the spring of 1930 and Marshall cleared his evenings and devoted himself to spending time with her. By the time she left they were at least tentatively engaged. Katherine insisted, however, that her children must approve.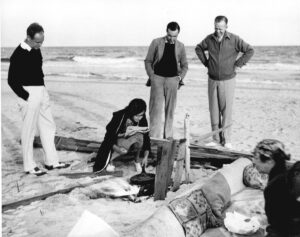 Katherine arranged for friends to come to her cottage on Fire Island and suggested that Marshall join them there. He spent five weeks with Katherine and her children and on August 1st he wrote to Pershing that he was to be married in mid-October and added that he was acquiring "a complete family."
Cameron Dunbar, a resident of Ocean Beach, Fire Island, recalls, "when I was about ten years old, General Marshall came to Ocean Beach in an Army amphibian plane, to visit Mrs. Brown. When the plane came in near the beach on the bay side, the tide was too low, and, therefore, they couldn't get close enough to the shore to disembark. I saw them, rowed out to the plane, and then backed the rowboat against it. General Marshall hopped on, and I rowed him to shore. He gave me a tip. General Marshall only came to visit three or four times each summer, but, after that day, he would always circle Ocean Beach each time he came to visit, and I would come from wherever I was to meet him in the rowboat."
After Marshall became the Chief of Staff of the Army, he didn't have as much time to spend with Katherine at Fire Island. And even when he was there, his new position made it hard for him to relax. He recalled that in May of 1941 he was "pestered to death by people coming in to talk over "the situation." A perfect stranger got into the house Saturday night and stayed for two hours. We went down town for dinner Saturday and I practically did not get to eat, as someone seemed always standing beside the table—being very pleasant and gracious but making it pretty difficult to get any relaxation. Fire Island has always been free of this sort of thing, so I was disappointed."
Eventually Katherine sold her cottage on Fire Island and used that money to buy Dodona Manor in Leesburg, Virginia.
[button color="" link="https://www.marshallfoundation.org/support/" new_window="no"]If you enjoyed this blog, please consider becoming a member and support the work of the Foundation[/button]